The vines and the chai
Port d'attache et embarcation

THE VINES
Our domain is 20 hectares (50 acres) in size and is composed of 6 growing parcels of vines that surround the village.
Each parcel has its own personal regime: the way the soil is tilled, natural cover crops, more or less severe de-budding, clipping and pruning where necessary…
The domain is entirely organic: we use only natural treatments in the vineyards (no synthetic chemical products). This is firstly through choice, in line with our own convictions. It is also the fact that the great wines of today demand high standards of winemaking, and organic agriculture is better for our health and the preservation of our environment.
Plant extracts are used in many forms: infusion, decoction, liquid manure, essential oils. Their properties are very interesting for fighting against spring frost, stimulating the activity of the soil and the plant, strengthening the immune defenses of the vine or for fighting against fungal diseases, which makes it possible to reduce the doses of copper in the treatments. The main plants used are nettle, field horsetail, osier, yarrow, chamomile, dandelion ...
THE CHAI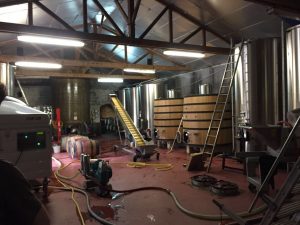 The chai is located at the entrance to the village on the road to Rochefort sur Loire. The cellar is ideally suited to respect the whole process from vine to bottle: use of gravity as much as possible, vinification with minimal contact with the grapes, slow pressing, natural fermentation with no synthetic products (indigenous yeast only), whole bunch maceration for the reds, segmentation of juices, no chaptalization, no filtration with reds, addition of sulphites in very low doses.
Since the beginning, the chai has continually evolved and each year there are new additions: two additional chais constructed for barrels (red & white wines), use of clay amphorae, reduction of epoxy vats… We continue to invest in materials that are specifically adapted to our way of working.